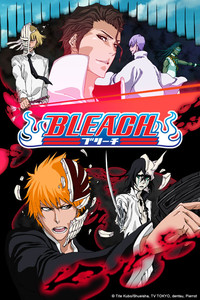 For a few days the more recent episodes of Bleach have been available on the Crunchyroll website.  This is another anime series Crunchyroll has got which I already watch and may push me to get a subscription.  For anyone who doesn't know what Bleach is either go here, read the manga, watch the series on crunchyroll, buy the series, watch one of the movies…….
Going through myanimelist and the Crunchyroll anime list, I'm sure most of what I am watching is available as well as several of what I have watched & intend to watch are also there.
So…why havn't I already got a subscription?
This is actually quite a simple answer. I don't want to sit in front of my computer to watch anime.  Although I own a 24″ imac (soonish to be replaced by 27″ imac), I also own a 42″ TV which I most defiantly prefer to use.
The device I use at the moment for most of my media & online streaming is the Popcorn Hour A-110.  Unfortunately Crunchyroll is not in the online services section of that box.  A PS3 is attached for Blu-ray & DVD's which have been released in the UK, or work on my UK based console.
OK.. So there is Boxee, a great bit of software, supports crunchyroll, but the only "set-top" box it runs on is the Apple TV, which from what I can tell, doesn't work at all with the 720p stream and not well with the standard ones.  At this stage I am not going to plug my imac into my TV for this stuff when I have dedicated hardware for the job.  Downloads would have been a great addition, but I don't expect that to happen any time soon.
So, whats next?
Popbox, when originally announced, looked to have Crunchyroll support.  This seems to have since dissappeared and at this stage, there is no UK release.
A mac mini under the TV, really costly for, really, only crunchyroll (maybe I can replace the old mac-mini and use that instead).
The boxee box, no mention of price, UK release, or even if a lot of online services will work
Plugging in my imac to my TV.  Although this is a possibility I'd rather not.
Using the PS3 to watch.  This could be the one I choose, as long as it works. Both positive & negative responses so far.  I have packed away my PS3 ready for a house move so its not happening quite yet.